XCMG 180HP GR1803 Motor Graders
GR Series Motor Graders are mainly used in ground leveling, canalling, slope scraping, earthmoving, scarification or snow removal work on road, airfield, farmland, and so on. They are necessary construction machines for national defense engineering, mine construction, town and country roads building, and farmland improvement..
Detailed configuration
* Shangchai SC9DK200.1G3 engine,
* Meritor riving axle ,
* Air conditioner driving cabin ,
* Imported differential mechanism .

Advantages
Strong power ,Comfortable driving environment .
Adopt imported hydraulic parts .Great working performance .

Product Description
Operation Weight (Base Machine) 15,930kg
Overall Dimensions 8,854*2,630*3,360(L*W*H)mm
Blade Length (4,279*25*607L*W*H)mm
Max. Lifting Height 475mm
Max. Depth of Cut 715mm
Max. Drawbar ≥85kN
Wheelbase 6,140mm
Frame Articulation Angle 20°
Min. Turning Radius 7.8 m
Engine Brand SDEC SC9DK220G3
Rated power 162kW
Transmission Type Hangchi 6WG180
Travel Speed (Forward/Rear)km/h40/25
Rear Axle/Tandem SEM ST22
Service brake Outboard disc with brake caliper,Air to oil Control
Oscillation (Front up/Rear up) 15/25°
Max. Oscillation Angle ±16°
Steering Angle (Left/Right) 47.5°
Max. Lean Angle of Front Wheels 18°
Hydraulic System Load sensing,PPPC
Service Refill Capacity
Fuel Tank 320L
Engine Oil 22L
Coolant 65L
TransmissionL28
Rear Axle (Main Reducer & Tandem) 157L
Circle Drive (Standard) 2L
Circle Drive (with Slip Clutch) 7L
Hydraulic Oil Tank 55L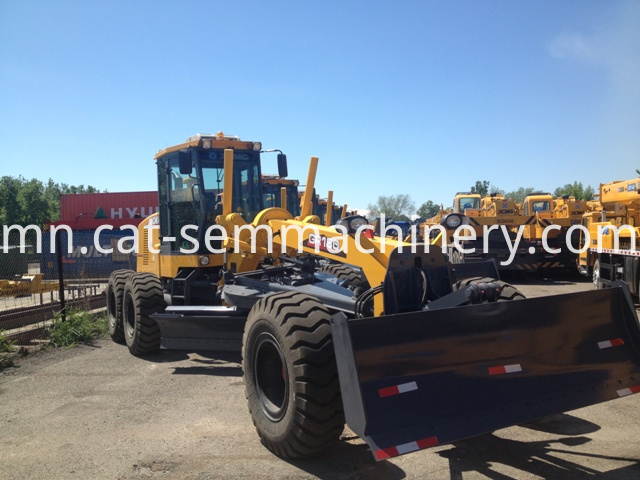 Бүтээгдэхүүний ангилал : XCMG Motor Grader > XCMG GR180 Motor Grader