Front End Loader SEM652B Mini Wheel Loader SEM

Optimized for sand factories, mixing plant, construction sites and other loose material applications.
• High Reliability
– The main components are in-house made at CQL, achieve best matching.
– The transmission design uniquely utilizes a robust countershaft design, that prolongs the life by one time.
– All-aluminum cooling system, which can make sure 24 hours continuously work.
• High Productivity
– The SEM PS bucket, utilizes a Caterpillar Patented design, extended bottom plate and enhanced curved side plate, the bucket collecting angle is increased to 50 degree. This buckets unique design, allows 10% more material to be loaded into the bucket, with less possibility of material scattering.
– Adopts high-duty implement pump and double pump confluence technology, the hydraulic system is steady and high efficiency.
– 3000mm middle wheel base for flexibility, high efficiency, with small turning radius.
Countershaft Transmission System-Heavy-duty Work Using Life Extend One Year
• Under the work conditions of Sand Factory, mixing station and construction loose materials, the using life is extended 50%
– Industry unique countershaft transmission provides double life, compared to competitive planetary transmissions in the same application
– Single pole three element torque converter, increases work efficiency by 10%, saving fuel
– Meritor large module drive axle, the design can bear 28tons, competitors usually adopt 26-26.5tons axle.
Caterpillar Technology Cooling System – 24 Hours Continuous Operation Guarantee
• Utilizing three independent cooling radiator cores (engine, transmission and hydraulic cooling is separate), allows worry free operation in all normal conditions. The separate cooling cores provide consistent and effective cooling, in all normal conditions.
• Customers with heavy duty applications, in extreme temperatures, can choose a high ambient cooling package, which allows worry free operation in temperatures up to 50C.
• SEM optimized cooling packages, are designed to ensure coolant and oil stay within their operating temperatures, which enables the service fluid change internals to be met. These operations temperatures are 70-80C for engine coolant, transmission oil of 90-100 C.
• An expansion tank, reduces the water pumps inlet pressure, therefor increasing the water pumps life.
High Durability and Reliability Frame and Structure
• Plate & fin type high pressure resistance cooler design, the using life is increased 10% than the usual tube & fin.
• Temperature resistant rubber baffling is assembled surrounding the cooling package, to ensure optimum airflow and the radiator`s reliability under the severe turbulence work conditions.
• Assemble the sealing plate between radiator and engine hood, avoid the hot air reflow and make sure the cooling effect.
Efficient and Reliable Hydraulic System
• Adopts double pump merging technology, implement pump and steering pump can cooperate with each other to raise the system efficiency.
• The implement pump dischargement enlarged to 112cc, the sum time of arm lifting, tilting & downing three movements is shorted to 10.4s, the work efficiency is much more higher.
• Design utilizes world class hydraulic pumps and components, to deliver reliability and durability.
• Solid core valve rod operation, the micro-movement performance is good, thermal deformation coefficient is small, not stop valve.
• Industry advanced high-pressure oil tube produced by Caterpillar Wuxi.
• Increase special pressure testing points, which make the maintenance much more facilitate.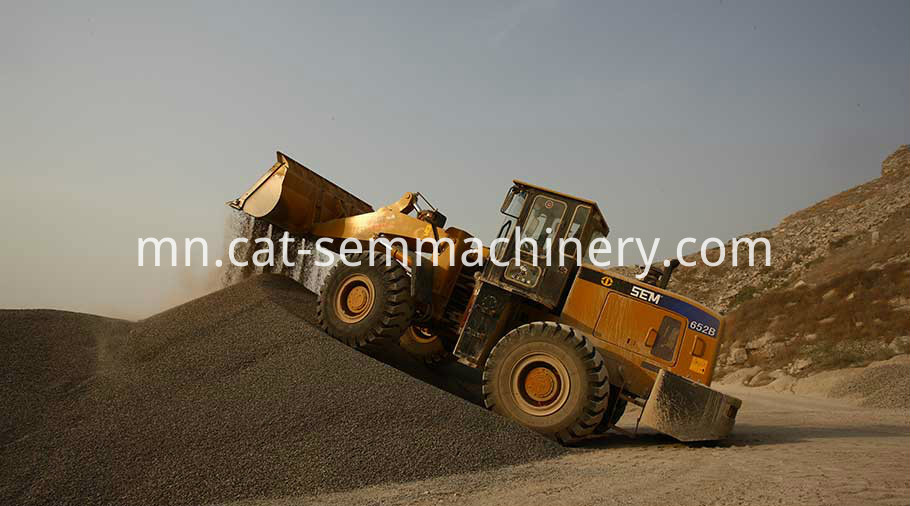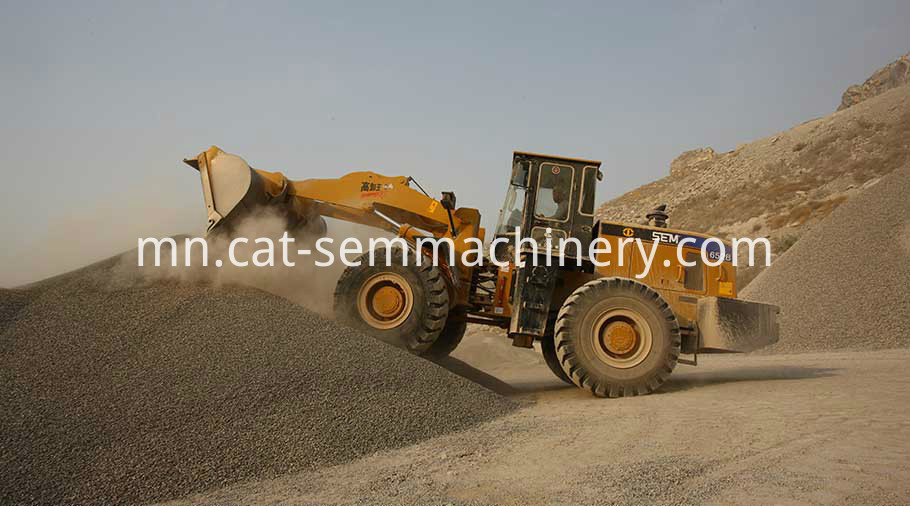 Бүтээгдэхүүний ангилал : SEM Дугуйт ачигч > SEM 652B Дугуйт ачигч